04 Oct /

Vale Tudo Japan 3rd – Fightday!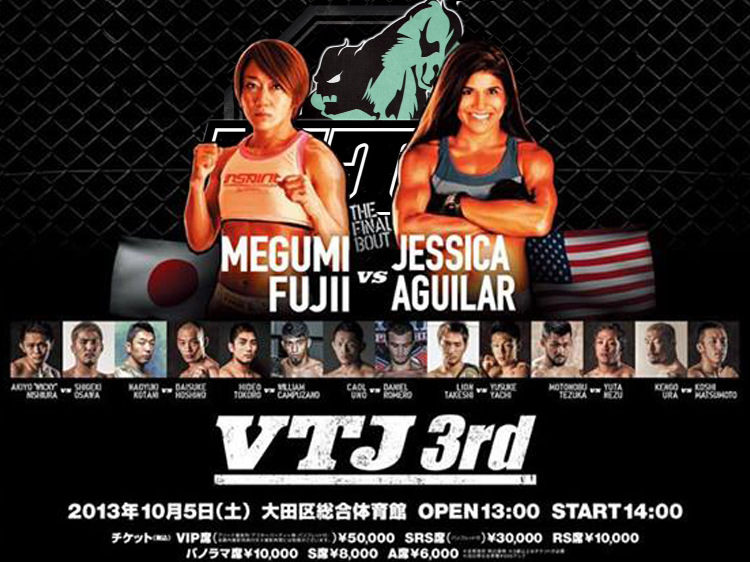 Vale Tudo Japan 3rd has finalized the event's fight card with the latest addition of Taiyo Hayashi vs. Yuji Kurakane.  The event will host a total of 12 fights culminating with the highly anticipated rematch between #1 ranked Jessica Aguilar and retiring women's MMA pioneer, Megumi Fujii.
Also on the card, Caol Uno will look to extend his winning streak as he takes on the American, Daniel Romero, who is coming off a first round TKO victory over former Dream Featherweight Champion Hiroyuki Takaya. Hideo Tokoro will be challenging former UFC veteran and Legacy Flyweight Champion Will Campuzano.
ZST Lightweight Champion Naoyuki Kotani takes on Daisuke Hoshino and Shooto Pacific Rim Featherweight Champion, the explosive Yuta Sasaki, faces Geun Do Park
Vale Tudo Japan has also started a "Goodbye Giveaway" for Megumi Fujii by allowing fans to enter free of charge in a sweepstakes that will award winners official VTJ and Megumi Fujii swag.  Fans can enter the contest at http://www.valetudojapan.com/mega-megu/ and are encouraged to leave Megumi Fujii final farewell and thank you messages.
VTJ 3rd October 5th, 2013
Ota City General Gymnasium, Ota, Tokyo
Fight Card
12) Megumi Fujii (26-2-0) vs Jessica Aguilar (15-4-0)  115lb (52.2kg)
11) Caol Uno (28-16-5)  vs Daniel Romero (8-4-0) 145lb (65.8kg)
10) Hideo Tokoro (31-25-1) vs Will Campuzano (12-4-0) LFC Flyweight Champion 126lb (57.2kg)
09) Takeshi Inoue (21-7-0) vs Yusuke Yachi (9-4-0) 145lb (65.8kg)
08) Yuta Sasaki (13-1-2) Shooto Pacific Rim Featherweight Champion vs Park Geun Do (9-7-2) 138lb (63kg)
07) Naoyuki Kotani (30-10-7) ZST Lightweight Champion  vs Daisuke Hoshino (8-6-1) 155lb (70.3kg)
06) Motonobu Tezuka (20-6-4) vs Yuta Nezu (14-7-1) 135lb (61.2kg)
05) Akiyo Nishiura (11-8-1) vs Shigeki Osawa (9-4-2) 145lb (65.8kg)
04) Kengo Ura (9-8-2) Former Welterweight KOP vs Koshi Matsumoto (9-5-1)  165lb (74.8kg)
03) Taku Kajikawa (1-2-1) vs Seiichirou Ito (3-1-1) 125lb (56.8kg)
02) Ryuto Sawada (1-0-0) vs HIroyuki Takahashi (0-2-0) 115lb (52.2kg)
01) Taiyo Hayashi (3-4-0) vs Yuji Kurakane (0-0-0) 141lb (64kg)
Vale Tudo Japan 3rd will be streamed live at 1pm JST / 9pm PST / 12pm EST / 4am UTC  and is available to purchase via NicoVideo  https://secure.live.nicovideo.jp/event/vtj  for 1000 Yen.
In order to aid users through the setup and purchase of the event, Vale Tudo Japan has set up an easy to follow instructional guide  http://www.valetudojapan.com/nico-nico-douga/  for navigating through the Japanese website to purchase the stream.  The event can be purchased by Verified by Visa® and MasterCard® SecureCode™ users.
For more information or news on VTJ 3rd, visit us on the web at www.valetudojapan.com, on facebook at https://www.facebook.com/ValeTudoJapanOfficial or on twitter at https://twitter.com/valetudojapan.   Card subject to change.